Pressure Cleaning Services
We stand behind every job and guarantee your satisfaction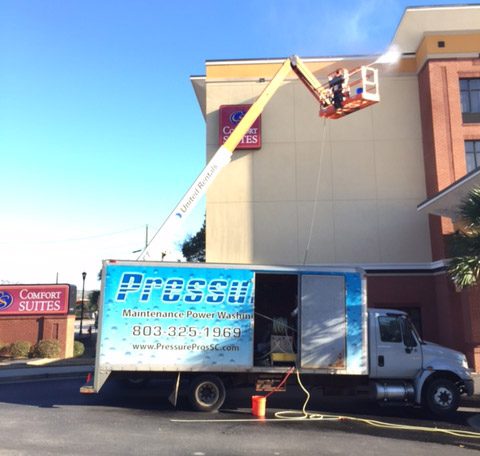 We do it right the first time
When considering a company to pressure clean your residence, business, or valuable property, you need to have the peace of mind that the company can do the job and do it right the first time. At Pressure Pros of the Carolinas, we have the best and most efficient cold/hot water pressure cleaning machines to get your job finished to your satisfaction. Our pressure cleaning machines provide outstanding and safe results for the longevity of your valuables and they also leave a clean, fresh look for great customer satisfaction. You don't have to worry about someone showing up with a "pressure washer" in the back of a pickup truck to ruin the look and value of your property. Our top of the line equipment is just part of what sets us apart from the competition!
Our Products Are Environmentally-Friendly!
We use specialized hoses, industrial machinery, pumps, spray nozzles, and environmentally friendly chemicals to give homes and other surfaces a high-quality wash to rid the surface of dirt, mold, mildew, and other damaging effects caused by nature.
What types of pressure cleaning services do you offer?
Commercial Pressure Cleaning
We provide commercial pressure washing services for restaurants, apartments, townhomes, shopping centers, strip malls, churches, gas stations, drive thrus, banks, and schools. We also pressure wash parking lots of all sizes. Our commercial service team will travel to your location in North or South Carolina.
Exterior Cleaning
We offer exterior cleaning for all types of surfaces. Siding, patios, walkways, wood fences, and more—if it's outside, we can probably clean it!
Pressure Washing
Professional pressure washing uses the best equipment available to clean all types of surfaces. You'll be amazed at the results—and we won't damage your property in the process.
House Washing
House washing is one of the fastest ways to increase your curb appeal.Our experienced staff knows exactly which tools and cleaners to use for your home's exterior.
Concrete & Driveway Cleaning
Keep your driveway and concrete surfaces looking like new. We'll give them a deep clean to remove oil spots, paint, mud, and other stains.
We at Pressure Pros of the Carolinas always take pride in our work, our results, and our competitive pricing. Because of this, your complete satisfaction is our GUARANTEE!