Commercial Pressure Washing in Rock Hill, SC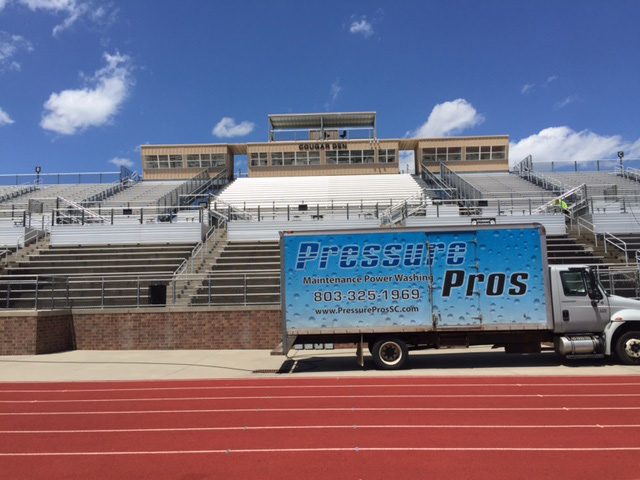 20+ years of the very best in pressure washing services


Exceptional Cleaning Solutions For Your Business
We understand the importance of maintaining a clean and professional appearance for your commercial property. That's why our skilled team is committed to delivering exceptional cleaning solutions that will enhance the curb appeal of your business and create a welcoming environment for your customers and clients. With our state-of-the-art equipment, extensive experience, and dedication to customer satisfaction, we are your trusted partner for all your commercial pressure washing needs in Rock Hill, SC, and surrounding areas.
 Commercial Pressure Washing Services
At Pressure Pros of the Carolinas, we offer the following commercial pressure washing services to businesses located in and around Rock Hill:
Concrete & Driveway Cleaning
Types of Commercial Properties We Offer Pressure Washing Services
Property Management-Apartments/Condos/Townhomes/Housing Authorities
If you have one community or a portfolio of hundreds, Pressure Pros of the Carolinas is the answer for your pressure washing needs. With thousands of units cleaned from our 30+ years of service, we can take care of all of your needs.
Common items we clean for our property management customers:
Vertical Surfaces: No matter if your buildings are vinyl, hardy plank, stucco, or brick, we have you covered.
Flatwork: Sidewalks, patios, pool decks, and even curbing.
Breezeways: The biggest request we get from apartment complexes, we clean the surface of the floor as well as the walls.
Banking/Retail
With hundreds of bank branches/retail properties cleaned a year, we have the experience and expertise to not only handle and maintain your properties but do so while working around your hours of operations and customers. No matter if you have oil stains, bubble gum, grease, mildew, or any other stain, we have you covered! Though we do one-time cleanings for stand-alone locations, we specialize in maintaining and managing your curb appeal for larger portfolios.
Banks (Building Exteriors/Sidewalks)
Shopping Strips/stores (Building Exteriors/Sidewalks)
Restaurants (Sidewalks/Building Exteriors/Dumpster Pads)
Tennis Courts/Recreation Complexes
One of the biggest before and afters we see are tennis courts. Give your playing surface a facelift while removing the mold and mildew from your playing surface. Not only does this make your courts pop visually, but it also extends the life of the court and takes away the slick playing surface that happens when mold/mildew accumulates. We have had the privilege of cleaning some very prestigious courts over the years, such as the University of Virginia, The City of Charlotte facilities, and the University of Greensboro, among others.
We also maintain other sports-related items. They include but are not limited to:
Exterior Basketball Courts
Swimming Pool Decks for Swim Clubs
Football Stadiums
Schools
We also provide pressure washing services to local schools in York County and surrounding areas.
Why Choose Our Commercial Pressure Washing Services?
Expertise in Commercial Cleaning
Our team at Pressure Pros of the Carolinas specializes in commercial pressure washing. We have extensive experience working with a wide range of commercial properties, including office buildings, retail spaces, restaurants, warehouses, and more. We understand the unique cleaning challenges that commercial properties face and have the expertise to tackle them effectively.
Attention to Detail
At Pressure Pros of the Carolinas, we believe in delivering meticulous attention to detail in every project we undertake. We understand that maintaining a clean and well-maintained commercial property is crucial for creating a positive impression on your customers and clients. Our team will thoroughly clean all surfaces, including entrances, sidewalks, parking lots, signage, windows, and more, ensuring your property looks its best.
Timely and Reliable Service
We understand the importance of minimal disruption to your business operations. Our team will work with you to schedule our commercial pressure washing services at a time that is convenient for you, ensuring minimal impact on your daily activities. We pride ourselves on our punctuality and reliability, completing projects within the agreed-upon timeframe and delivering exceptional results.
Customer Satisfaction Guarantee
Your satisfaction is our utmost priority. We strive to exceed your expectations in every aspect of our service, from the quality of our work to our professionalism and customer care. If for any reason you are not completely satisfied with our commercial pressure washing services, we will work diligently to make it right.
Choose Pressure Pros of the Carolinas for your commercial pressure washing needs in Rock Hill, SC, and experience the difference we make. Contact us today and let us transform the appearance of your commercial property with our exceptional cleaning services.
Areas We Serve
• Rock Hill • Fort Mill • Lake Wylie • Tega Cay • Indian Land • Great Falls • Clover • York • Chester • Lancaster • Baxter Village • Catawba • Steele Creek NC • Ballantyne NC
Get in touch with us for Pressure Washing